Did you know that 87% of period products end up on landfill, in our oceans and on our shores?
It takes between 500-1,000 years for this waste (which is 90% plastic) to breakdown, which then releases harmful chemicals and microplastics into our eco-system, polluting our planet and killing our wildlife.
Someone who menstruates is expected to use from 11,000-15,000 single units of tampons and sanitary towels in their lifetime.

It's time to make the swap.
For you, the planet, and others.
For every order, we will be donating an intheflow menstrual cup to tackle period poverty.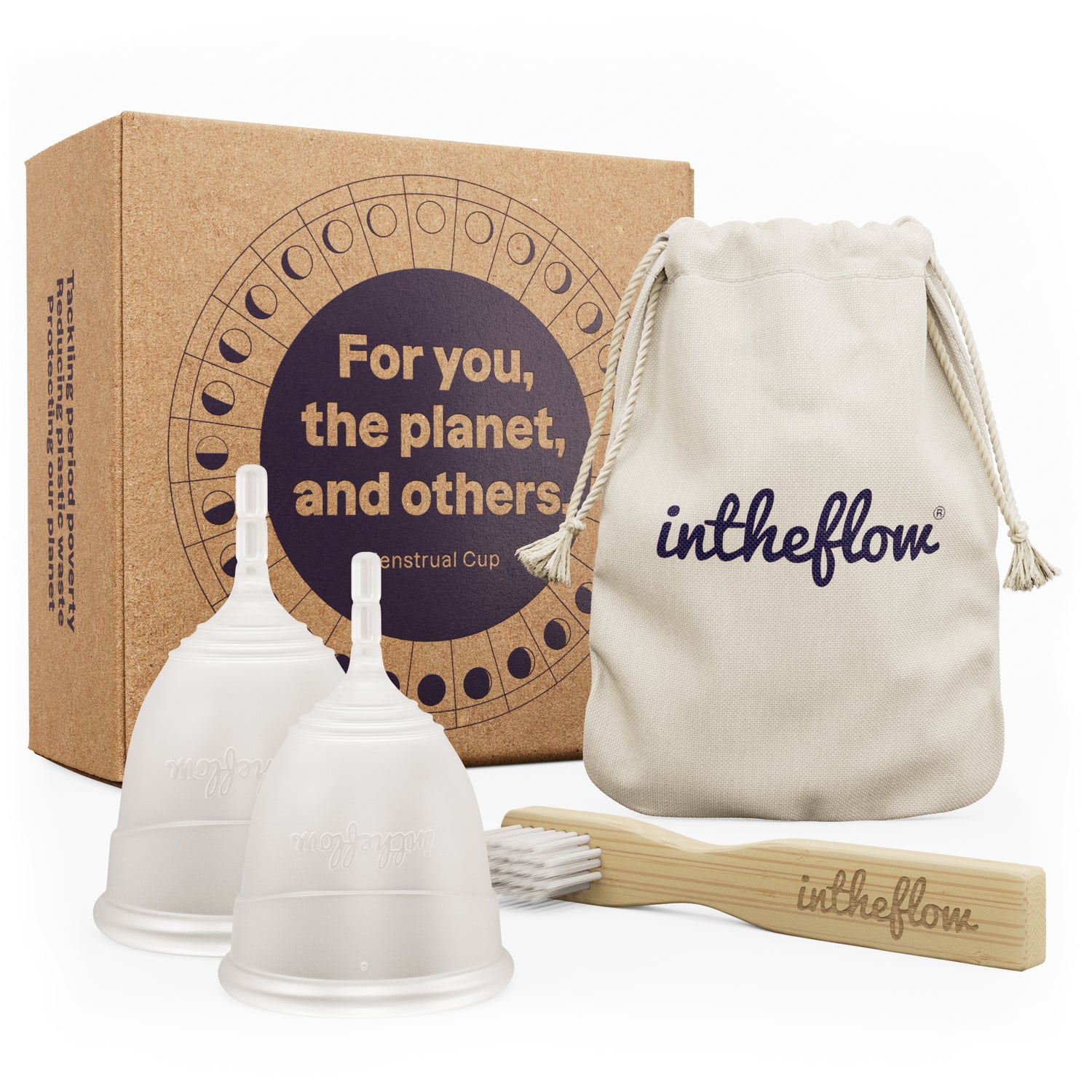 Buy-One-Give-One
The impact of your purchase
🩸 Help us tackle period poverty
🌊 Protects our oceans
🌏 Protects our planet
♻️ Reduces plastic waste
🤍 Helps us fight for gender equality
#weareintheflow
Buy Now
Maximum comfort

YES you can wear your intheflow menstrual cup to bed and YES it is far more comfortable than wearing a tampon or pad and YES you can wear it for up to 12 hours, day or night.

#Weareintheflow

Designed to be soft, flexible, and comfortable for all body shapes and sizes, leaving you feeling more confident to wear what you want, and to go about your day-to-day activities with more freedom and less visits to the bathroom.

Perfect for exercise

As our intheflow menstrual cups are made from medical grade silicone, you don't have to think about that silly, soggy piece of string hanging from a tampon. The stem is discreet and non-absorbent, making it perfect for exercising, swimming or days by the pool.
Frequently asked questions
How do I know if an intheflow menstrual cup is right for me?

Many people are making the swap to a menstrual cup for many different reasons.

A big one is due to the environmental impact of traditional period products, but others are making the swap because it's a healthier, more affordable, and more comfortable alternative to tampons and sanitary towels.

You can wear your menstrual cup for up to 12 hours, day or night.

You can exercise and swim with your menstrual cup with less worry of leaking.

There are so many reasons why you should at least try our menstrual cup, but our favourite reason is that it helps us with our donations in an effort to tackle period poverty with our buy-one-give-one model.


We think you will love it!

Check out our blog posts.
How do I know what size to buy?

We have 2 sizes for you to choose from. Size A is our smaller menstrual cup and is suitable for under 25's or those that have light flows. Our Size B cup would suit someone that is over 25 or someone that has birthed vaginally. It is also suitable for someone that has a heavy flow, but with this, our Size A menstrual cup is still appropriate, it might just mean that you empty it more frequently.

We also have a money-saving Twin Pack for you to try our menstrual cups in both sizes, which has the added bonus of keeping one spare.
What comes in the box?

You will receive your intheflow menstrual cup in a cute little storage bag, alongside an instruction booklet and a free cleaning brush. Our QR code will direct you to our contact details for us to connect and support you with any questions you may have, with a link to our digital instructions.

You can view all options here
What if I can't get it out?

That's a good question, and when you first start to use your intheflow menstrual cup, it will feel different from using a tampon.


That's due to our cups being designed to create a seal to stop you from leaking. We have air-holes that are broken on removal, which ensures you are able to break the seal and gently and slowly pull your cup out to empty it directly into the toilet, or some menstrual cup users like to empty it in the shower. You do you boo.

Top Tips

When removing your menstrual cup, squeeze the very top of the stem or the very bottom of the base of the cup and twist slightly to break the seal. Your menstrual cup should then wiggle and slide out with little to no fight

Try not to panic, it will come out. Relax, follow the instructions, and get in touch if you need to talk to us

Know that it is completely normal for it to take quite a few go's before feeling 100% comfortable with your technique. Hang on in there, darl.

If it doesn't feel comfortable, it's not in properly. Take it out and try again. You will know and feel when it's in properly and it takes a little practice.

You might like to have some tissue or a pad in your underwear as a backup until you are satisfied that you have got it right.

If you have any concerns, email hello@intheflow.online and we will call you right back.


Why intheflow?

For you, the planet, and others.

Intheflow is a social enterprise, using the sale of a product to make a difference in the world.

We are all about sustainability, protecting our planet, and helping others. Our main drive behind developing our catalogue is to tackle period poverty whilst reducing the amount of single-use period plastic waste that is ending up in our oceans and on our shores.

For every 10 people that make the swap to our intheflow menstrual cup, and with our donation of 10 under our buy-one-give-one model, we are saving the planet from 48,000 single-use tampons or pads, (which are 90% plastic taking 500-1,000 years to breakdown) over a 10-year period.

The financial impact of that will save 20 people that menstruate a combined estimate of £31,800.

On top of this, a percentage of our profits will be distributed to charities and non for profit organizations to fund activism and campaign toward gender equality.

Intheflow celebrates all genders, and as our catalogue grows, we aim to provide a number of sustainable options that represent our diverse community.

We want you to find a product that feels comfortable for you and we want you to feel as comfy in your body as possible too. That looks very different for each person that menstruates. But we've got you! watch this space and give us some time as we'd love to share this journey with you on our side.

Plastic free
Medical grade silicone
Lasts for Several years
Vegan
Eco-friendly periods
Buy-One-Give-One model
Brighton, UK
How do I use an intheflow menstrual cup?

First, please ensure you sterilise your intheflow menstrual cup
Wash your hands before inserting and after removing your menstrual cup
Insert: Practice your folding technique (The C fold is most popular)
Place in a comfortable position, your menstrual cup will pop into place and create a seal if inserted correctly
Wear for up to 12 hours but always aim to empty it within 6 hours if you can. If you have a heavy flow, you might like to empty it more frequently

Removing your intheflow menstrual cup

Wash your hands
Find the stem and work your way up to the bottom of the cup, gently squeeze and twist to break the seal through the air-holes, and then in a slow and steady motion, pull the cup out gently and empty it into the toilet or whilst you are in the shower
Rinse with water and reinsert or clean and store in your free intheflow storage bag

I have an IUD (Coil). Is a menstrual cup safe for me to use?

There have been some instances of menstrual cup users of other brands reporting displacement of their IUD during use.

Although generally safe, as we are so new, (launched in 2023) we have no data of our own, so can only go on the research we have completed. Therefore, we strongly advise that you speak to your doctor, nurse, or gynaecologist for a thumbs up on whether they feel an intheflow menstrual cup is a safe option for you.


Here is some useful research

https://contraceptionmedicine.biomedcentral.com/articles/10.1186/s40834-022-00203-x


It's worth noting that 1 in 20 IUDs are naturally rejected by the body within the first 3 months of placement during menstruation.

The research and connection to the two may therefore be coincidental. It may not be due to the use correct use of a menstrual cup and more toward the incorrect technique when removing or emptying a menstrual cup. Eg, not breaking the air-seal properly.

At this time, there is not enough evidence, so please consult your own doctor or nurse for advice on this and if you experience any pain or discomfort, know that this is not normal and you should consult a doctor.

Intheflow Menstrual Cups are designed to sit lower than where an IUD is inserted and sits just below the cervix. If you have been told that you have a low-sitting cervix, a menstrual cup may not be for you.
Buy One, Give One

For every Intheflow Menstrual Cup sold, we will make a donation to low income communities, charities and shelters, right here in the UK for now, with other parts of the world on our list.


Activism

When you buy a menstrual cup from Intheflow, you are actively helping us fight for gender equality. A percentage of our profits will be distributed to charities and organizations.

Get involved

If you want to raise awareness around the environmental impact of traditional period products, period poverty, and gender inequality, we would love to hear from you.

#Weareintheflow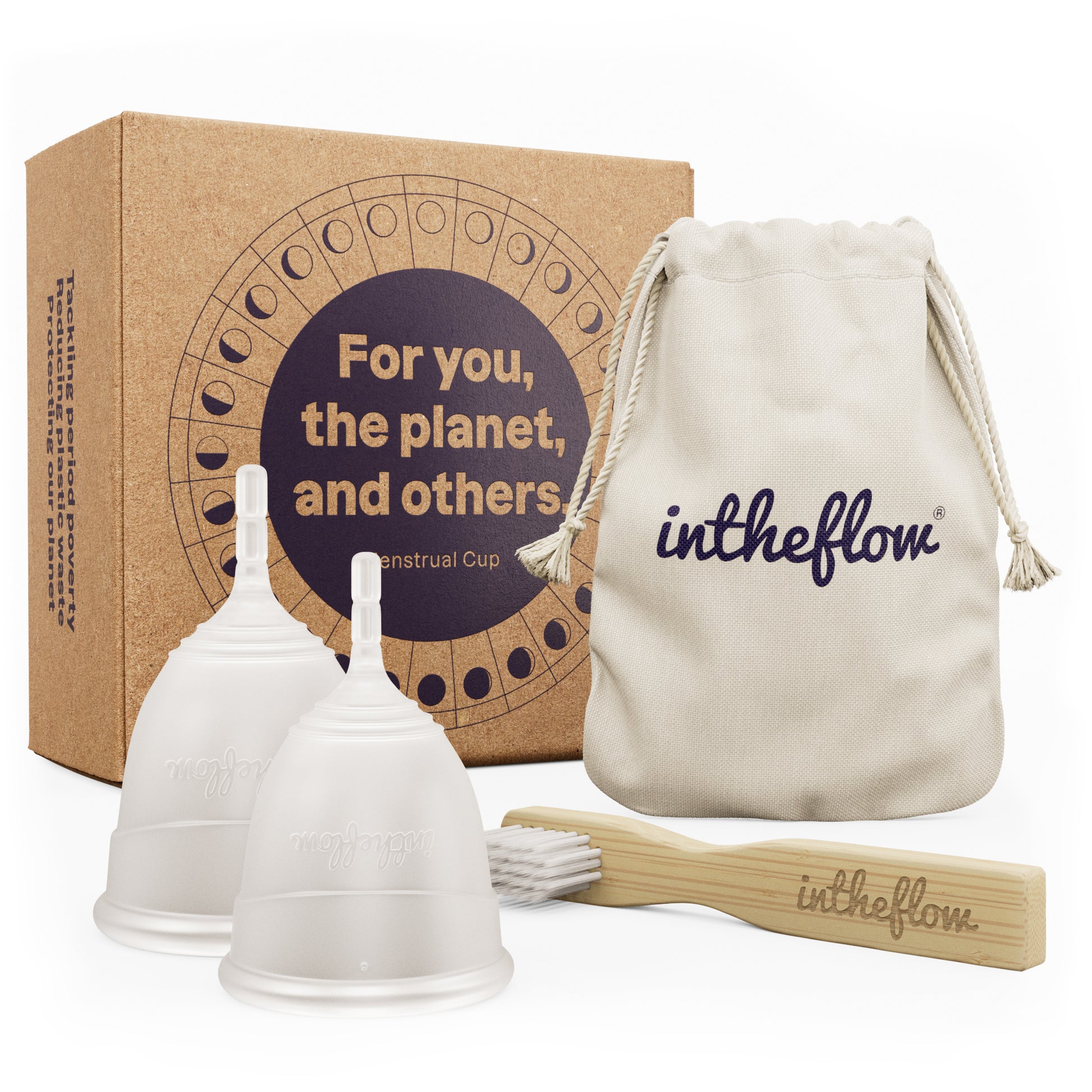 Intheflow Menstrual Cups, Twin pack. For light and heavy flows
Regular price
$50.00 USD
Sale price
$38.00 USD
Unit price
per
Sale
Sold out
Share
View full details